29 Jun 2022 • Kelly Muñoz (She/Her)
Representation matters
An open letter from Kelly Muñoz, Brave Care provider
On June 1st, 2022, I opened up Instagram and started beaming over all of the Pride posts–friends, influencers, celebrities, and corporations alike posting about Pride, it's importance and what organizations to donate to in order to help contribute to the most marginalized people within our LGBTQIA+ community. 
I went from 'story' to 'story' and came across a repost that was originally created by a Brooklynn Photographer, Sterling Graves, that said "Pride is important because someone tonight still believes they're better off dead than being themselves." 
And that, that heartbreaking, almost too difficult to type out for this post is why–
Representation matters.  
It matters in the smallest, most minuscule ways, and it matters in the biggest ways, the most life-altering, ground-shattering ways.
Media, including the arts, television, film, literature and culture has the ability to create authentic portrayals of LGBTQIA+ folks. Writing, normalizing, and manifesting these stories is the simplest way to resist stereotypes, and to more importantly, help someone feel seen.  
When you look in the mirror and you feel confused, hesitant of who you are, or what it means to feel different, and you look around at your peers unsure if anyone else around you is feeling  like you are, you can look to media and see if someone's reflection and story, matches yours, and in that moment your life and your world opens and grows with new possibilities.  
Social media can also play a big role. There are many studies that will tell us how social media has negatively impacted our young teenagers and children. The rates of depression, anxiety, and cyber bullying related to social media is staggering in itself. Without a doubt, monitoring internet safety for kids is imperative. And as a pediatric physician assistant, it is my due diligence to talk about this safety (and also to encourage limiting screen time!)  
But when the rest of your world is more scary than what you see on your phone or computer, social media can be someone's safe haven, a refuge they won't have anywhere else. Watching queer TikToker's, Instagram Influencers, and Youtuber's live authentically and share their beautiful queer lives, often with similar life stories, that kind of resonation is unmatched by what the closeted, scared, trans* boy in rural Oklahoma has the chance to feel outside of his phone.  
When acceptance, support, and love doesn't come from those closest to you, from those it should, or when you live in a community where you may not know another queer person, many youth find solace in the online queer community.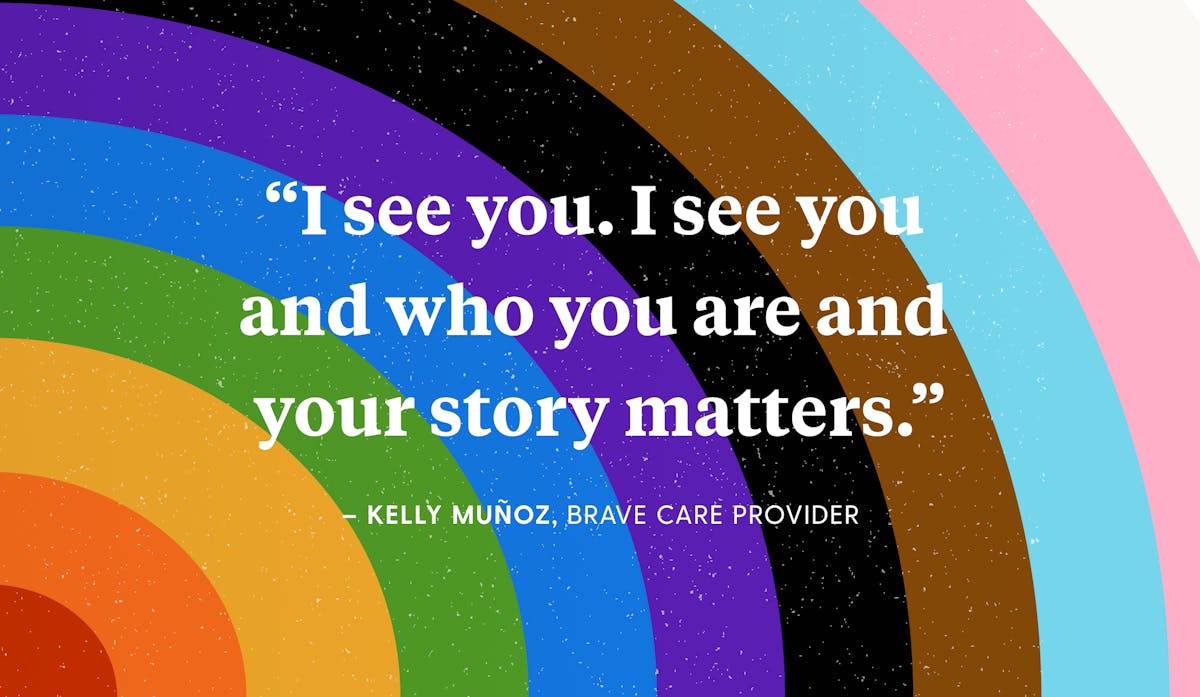 As a pediatric provider at Brave Care, I am so proud of the efforts we make as a company to make sure our patients and their families feel respected and celebrated for who they are when they walk through our doors and receive care from us. A collective experience most queer folks  will speak of is the feeling of walking into a new place and searching for signs of acceptance and safety - when our patients walk in, they'll see Pride stickers, a "Pronouns Matter" sign, and our pronouns listed on our ID badges - these small signs of inclusivity mean everything to the  queer parent who often sadly expects subpar care and respect, and to the child looking for a safe place. 
My hope is that every child, no matter how scared, lonely, or different they may feel, turns on the TV, picks up a book, or sees a piece of art that feels like an instant hug, a big breath out,  something that tells them, "I see you. I see you and who you are and your story matters." 
The latest from Brave Care