21 Apr 2021 • Darius A. Monsef (He/Him)
Announcing our $10M Series A funding
The journey of 2020 and all the places we're going in 2021 and beyond...
I'm not one to brag, but dang does my team deserve recognition for all that they've done in the past year. I am incredibly proud of our team and how everyone maintained their high quality of work, professionalism, care and joy in such a no good awful year. From our front line medical workers who are always there for our kids in hard times to the entire product & operations teams that build the tools driving the future of pediatric care... as much as I'm excited for the future, I'm deeply appreciative of who we are today.
Making it through a very difficult 2020
When COVID hit last year and we were all under the strictest shelter-in-place guidelines, we responded quickly to build digital tools to help parents get the help they needed from home. We launched Telehealth visits and got licensed in 14 states… and we were one of, or if not THE, first of any company to release an online COVID symptom checker… we launched ours March 2nd 2020. We also scaled our rapid COVID testing capabilities and have provided a comfortable place for thousands of kids to get their COVID tests.
In a year with a pandemic, a recession, riots, fires, ice storms... all that I've seen the team at Brave Care do leaves me humbled and impressed.
Learning the limits of telehealth in pediatrics
What we confirmed during the past year is that Telehealth is a very useful service to provide to parents who are concerned about their child's health and want good information, but Telehealth can not replace an in-clinic visit in most pediatric care situations. Adults want/need very different healthcare solutions for themselves vs what they want for their kids. Most adults take a very reactive approach to their own health, basically only going in when there is a severe injury, otherwise choosing to suck it up and weather what's ailing them.  I'm an example of this lax approach to my own care, vs the proactive way I take care of my kid's health.
A lot of that attitude comes from how hard it is to really know how serious an injury or illness is with a child. I can tell you that I have an ache in my upper neck that radiates down behind my scapula… my 9 year old would just say her neck / head hurts. My 3 year old is just going to cry. Where Telehealth requires precision in language to explain exactly what is hurting where & when in order for a provider to remotely diagnose… in young children that is very hard, and in kids under 3 it's basically impossible.  We've found that for a majority of our 10,000 urgent care visits, most had to have been treated in an in-person setting as we provided a shot, stitches, x-rays, lab tests, breathing treatments, etc. Things that there is nowhere near an in-home dongle taking care of it.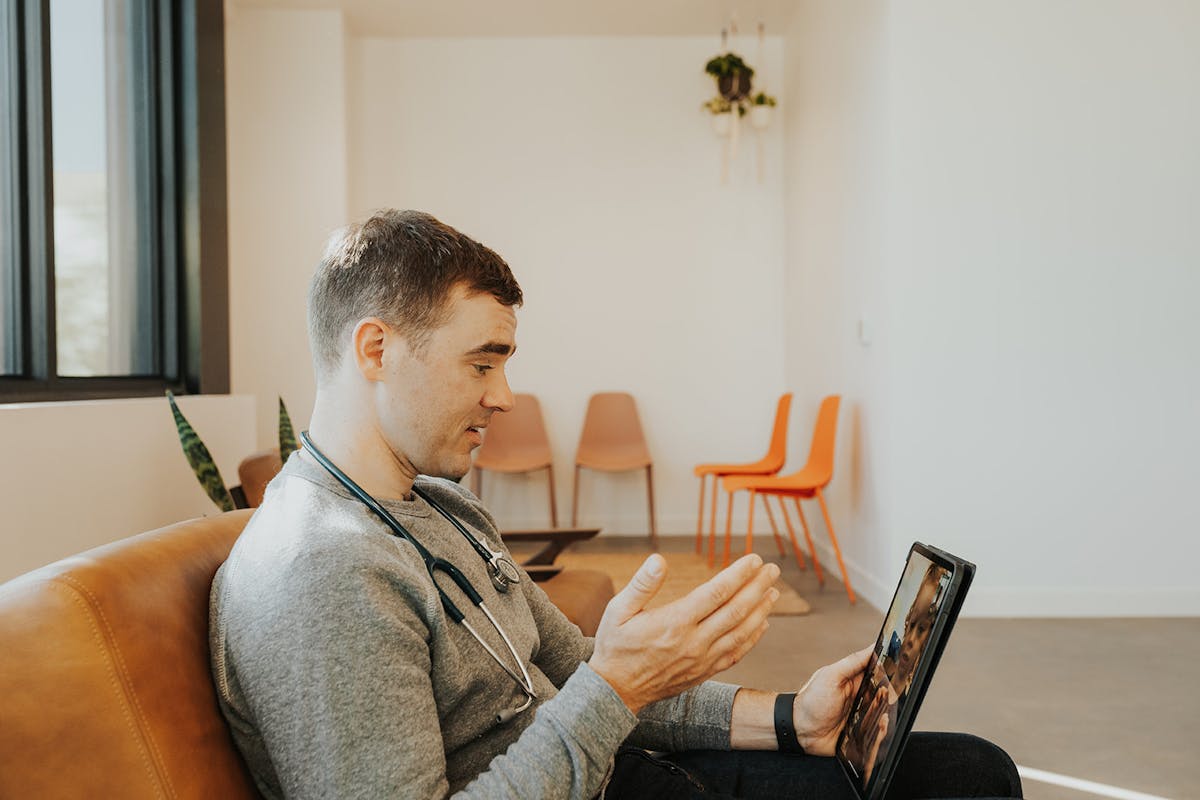 Expanding access to exceptional care for kids
We opened our second clinic last fall in Portland and are very proud of the kind of clinic we opened for families. We put the child and their caregiver at the center of our experience design, to build a clinic that is bright, comfortable, clean and modern.  We deliver the most complete pediatric care experience for parents which means that along with primary and urgent care, we also have x-ray, labs & pharmacy on-site… and our clinics are open 10am-10pm 365 days a year. Our expert pediatric nurses answer our phones 24/7 so you never have to worry alone. Since starting Brave Care 2 years ago, I have seen our medical staff 23 times not as their CEO, but as a worried parent with a sick or hurt child. I know first hand how powerful it can be to deliver care that is thoughtful, efficient and empathetic in those scary times. 
We also built a beautiful mobile clinic that serves as an extension to our physical clinics, reaching parents at home for their first newborn visits or for at-home vaccinations where a child is often most stressed out. Our mobile clinic is also capable of rapid COVID testing and has allowed us to bring flu-clinics to communities.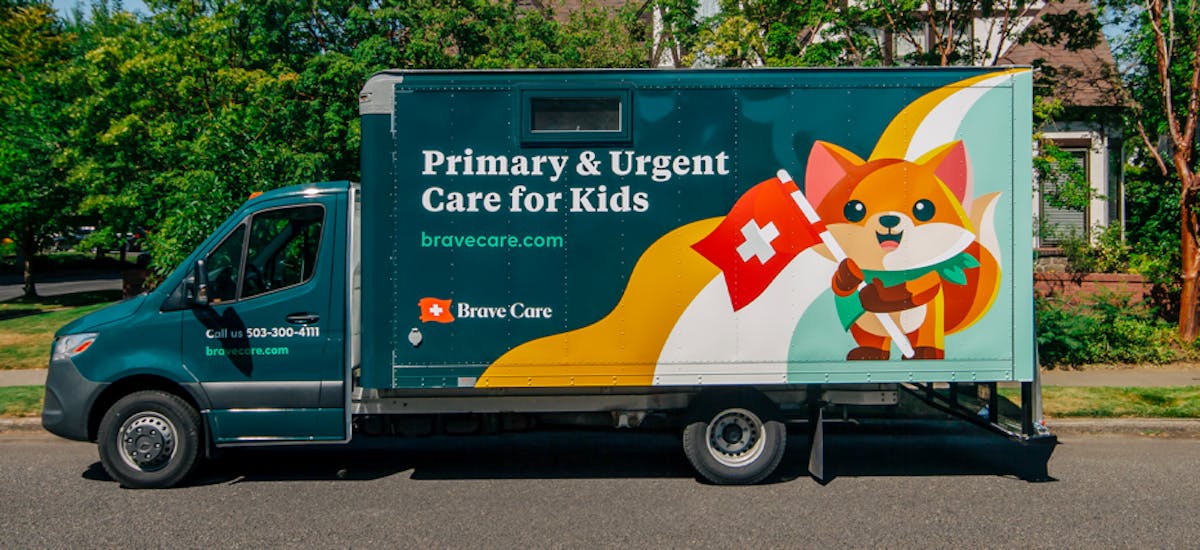 Maintaining the highest quality of care
When I first partnered with Dr. Corey Fish, a lot of us had questions about how we scale our high ratings and glowing reviews as we added more providers and opened more clinics. I'm very proud that we've been able to hire nearly a dozen providers and still maintain the same quality as when he was our sole provider giving his thoughtful care to every patient.

The quality of care we provide is one of our highest priorities. We now have over 300 5-Star reviews and our NPS score across 800 parent surveys is at an incredible 92. Other companies brag about NPS scores in the 70s… We recently got a 7 score with the comment "They were very helpful thank you" … even our bad reviews are another company's good review. We maintained this quality of care going from 1,000 patient visits to 10,000 patients... I'm confident we can do it again going from 10k to 100k.
Mind blowingly amazing care!
"Mind blowingly amazing care! Best I've experienced in Pediatrics in 10 years of parenting. You should all be very proud of yourselves!"
Health-tech that creates more personal care
Along with navigating our own startup thru a 100 year event, on the tech side we shipped the work of a couple other startups.  In order to deliver care in the most efficient way, while still delivering a personal experience, we have to build our technology stack from the ground up. From booking an appointment online, to checking in for your visit, how our medical staff tracks your child's patient history, to our mobile app allowing you to chat with us at 2am… It shouldn't matter if you come in for a scheduled well visit, an unplanned emergency on a weekend, or call our phone number late at night… we're building a complete ecosystem so you always feel like we know you and your child… and you don't have to reach the one person at a typical clinic who does.
Our iPad check-in removes the pencil and paper from our waiting rooms… you'll have to find an eraser somewhere else for your kid to lose up their nose. In a lot of cases you can just walk right in and complete the check-in in one of our visit rooms, making it much easier to take care of your child vs waiting in the reception with other sick or injured kids. Now with our mobile app, a parent can check in one-handed right from their own phone.
Why would we invest in building our own full-stack tech experience for our clinics? Because we just shipped an improvement that will save us $500k this year and our patients hundreds of hours of their lives.
We had our product team sit with our clinic staff to see how long it takes to check a patient in… registering patient/caregiver info, gathering insurance & payment info, etc. Because the legacy way of checking patients in is innocent, we built a streamlined intake flow for our medical staff which shaves about 4min off every single visit. At 4min savings that's 65k minutes this year. If we used that time to see more patients we could make an additional $500k in revenue… or use it to give our patients more time. This was one small improvement in a platform that we continue to build as the best experience for clinical staff to use.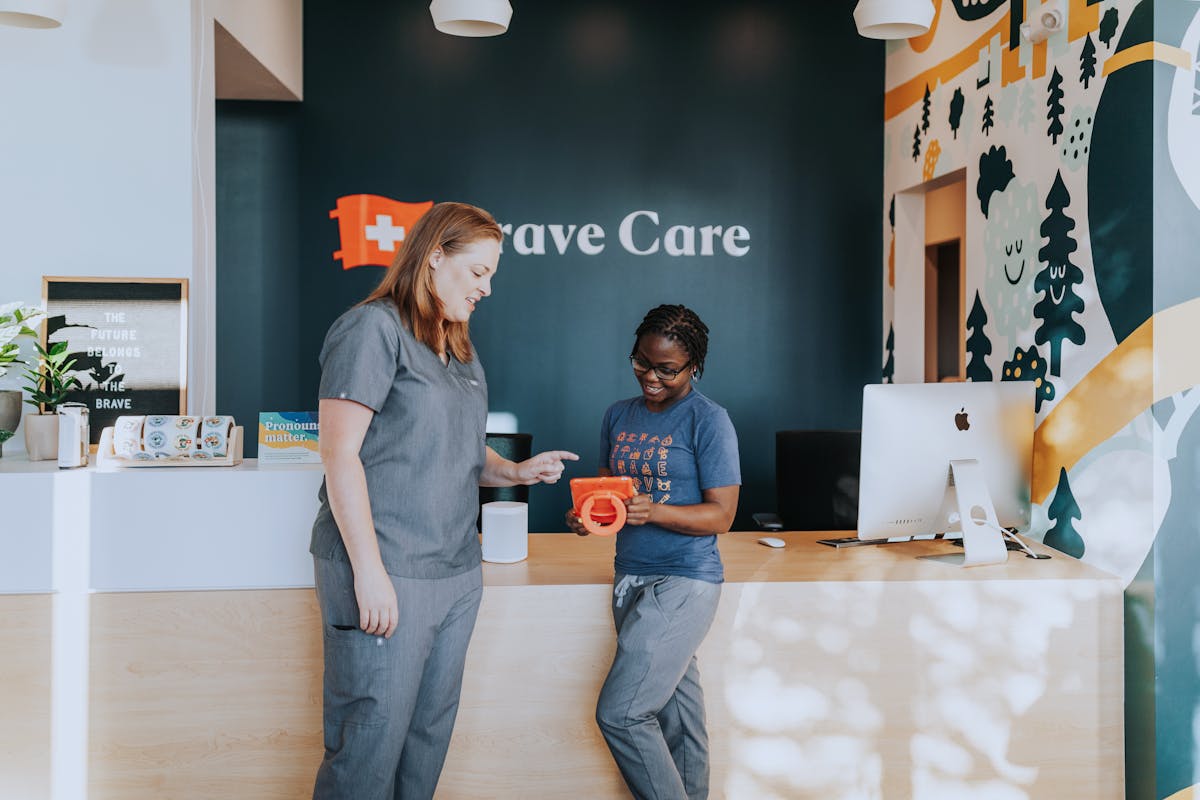 The Series A and our future expansion
We started with an idea for the most complete pediatric care experience and worked through incredibly difficult challenges over the past year, but we've validated our assumptions about how we scale incredible high quality of care across multiple clinics, leveraging great technology to create the most efficient and delightful tools for our medical staff and the parents of our patients.
Now I'm very excited to kick off our national expansion in pursuit of our goal to be the national partner for parents and their child's health. Our mission is to help every child reach their potential, and good health is at the foundation of them being able to do that. We're not building concierge medicine for affluent families… we're delivering the same high quality, personal touch and access to any family because a child deserves the best care regardless of their parent's financial resources.
This year we're expanding our Portland, OR home market with a 3rd clinic out in Beaverton near the Nike headquarters, opening multiple clinics in Austin, TX and opening into North Carolina as well. We have several next markets on our short list of family friendly, growing and in need of Brave Cares that we will expand into next year. We'll soon get to a dozen clinics and continue on to hundreds of clinics because getting sick or injured is actually a healthy part of a child's development… we just want to make sure they come away with their confidence to continue becoming their best selves.
I'm genuinely very happy about our lead investor Jeff Rinehart at City Light joining Brave Care to help us push on this next phase of our journey. They are an impact oriented fund that is perfectly aligned with our commitment to build a great company while doing good. Together we built an impact pro forma that will help us stay accountable to making sure we create more equitable, empathetic and inclusive care for all kids and every kind of family.
Our $10M Series A was led by City Light with additional support from existing investors like Founders' Co-op, Refactor, Fifty Years and Indicator Ventures… and we welcomed several new values aligned investors like AV8, Gaingels, Interplay and Learn Capital.
This investment secures the next phase of our growth, but we're also exploring other non-dilutive forms of funding that will allow us to drastically ratchet up our expansion as we acquire existing pediatric practices and plug in the Brave Care infrastructure… immediately creating a more robust service offering while being more profitable & efficient.
With all that we were able to do in a terribly, difficult year… I'm excited to see what we can do in a more reasonably normal year… and in the good years to come.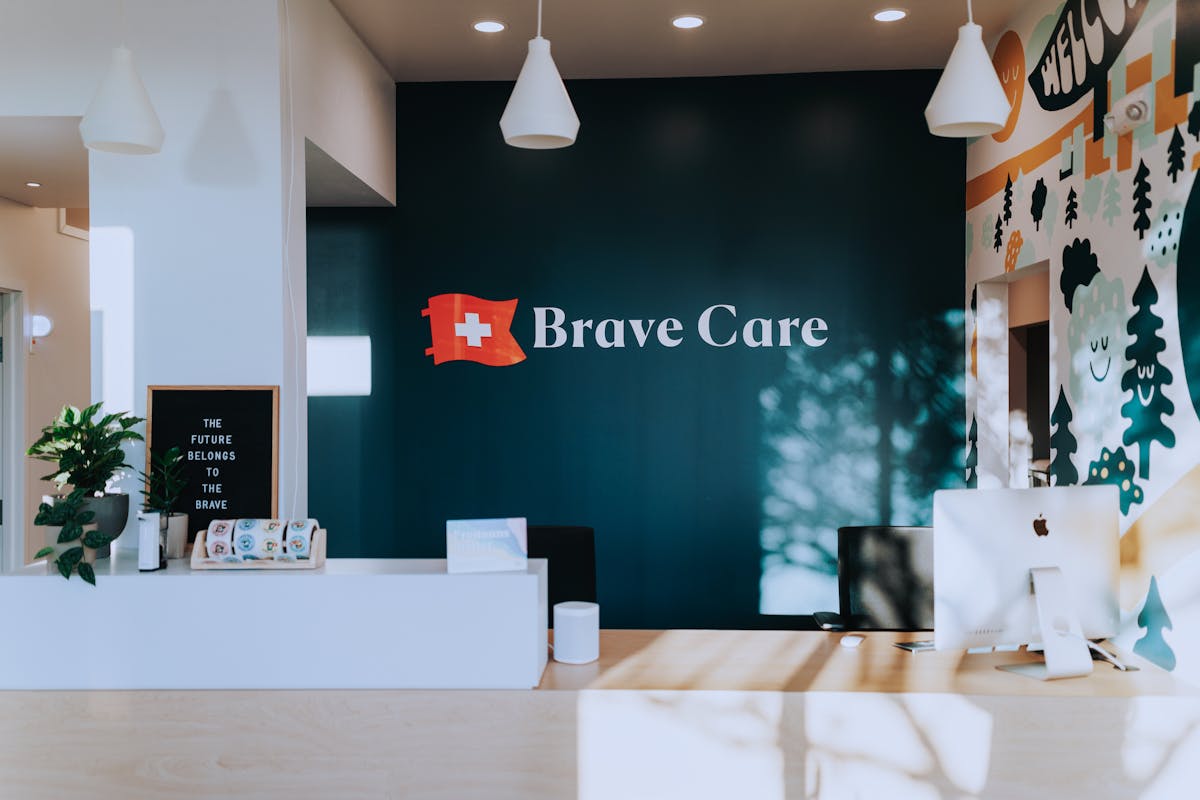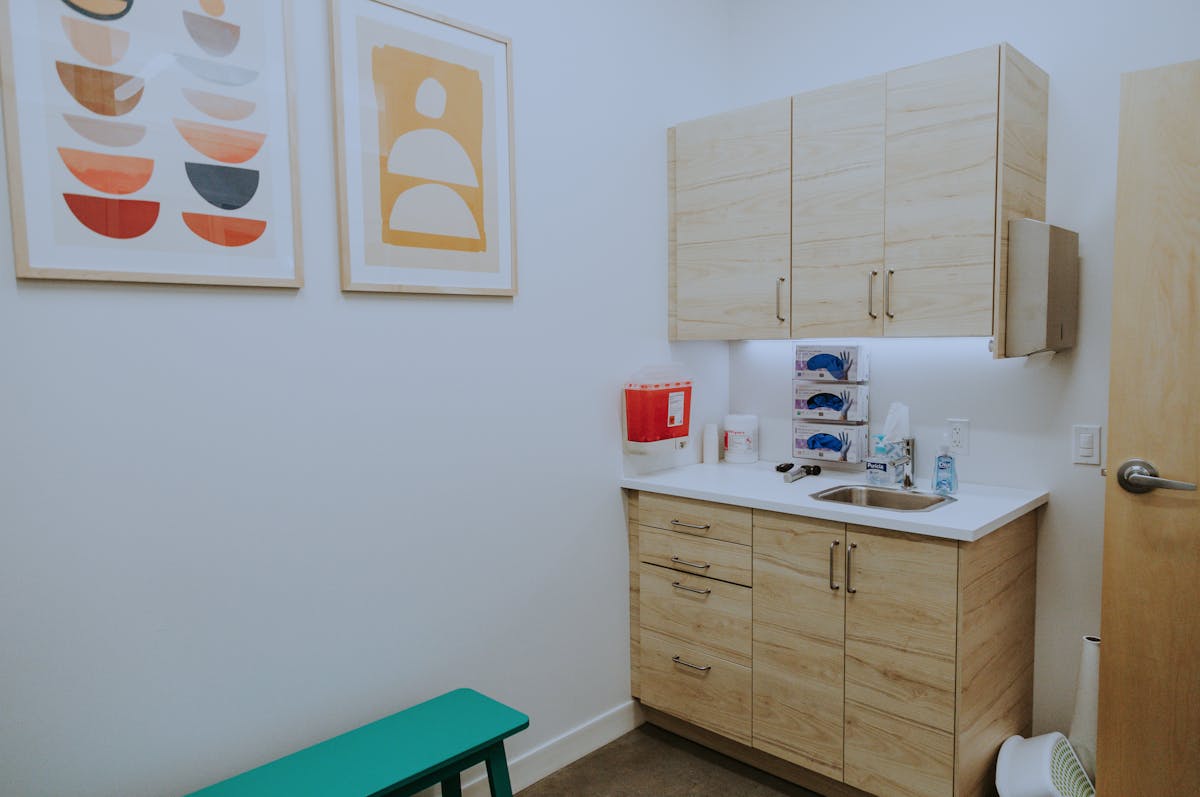 The latest from Brave Care