Imagine this. Your little one's energy feels off. They're lethargic. Cheeks are flushed and, uh oh, they definitely feel warm. Now that you're taking a closer look, you notice they may be struggling to breathe. What do you do?
Like most loving caretakers, you search online to try getting to the bottom of it. You enter their symptoms into one of those sites and there it is: the worst-case scenario. Now fully panicked, you pack the family into the car and rush to the emergency room where you'll wait far too long and pay way too much to find out it's a common cold.
This experience is all too familiar for so many, and it's completely unnecessary. How did things go so wrong, so quickly? Well, many of those medical advice sites are ad supported and profit off of sensationalism. And there's nothing more sensational than using common (and gross) scare tactics that push the unimaginable to the top of your search.
There's no sense of progression, which is what people should experience when they interact with qualified medical professionals. The reason professionals ask so many questions is because they're gathering facts from patients to eliminate possibilities, or make informed decisions about possibilities to explore further. For example if a parent says, "My kid has a really bad cough.", the follow-up might be, "Do they have any difficulty breathing or wheezing sounds?"
Having a little one who's not feeling well is scary enough as it is. The last thing anyone needs is questionable sites that make matters worse. That's why we built a Panic Free Symptom Checker that asks the questions a professional would, features smart progressions, and provides useful advice on what to do next.
It's personal
According to the Healthcare Cost and Utilization Project, of the 30 million annual pediatric ER visits, 97% could be addressed by pediatric urgent care. Shocking, isn't it? Just imagine the time and money that could've been saved.
Had those 97% of patients been treated within urgent care, it would have been 1/10 the cost, 1/4 the time, and a much better experience. There are many parents amongst the Brave Care team who have experienced the same scares, frustrations, and costs.
Not only were members of our team dealing with these issues firsthand, but we also observed a steady amount of calls to our clinic. Calls from parents who were scared, didn't know how to address what was going on, and were looking for guidance on what to do next.
All roads don't lead to professional medical intervention. Just as many ER visits can be addressed through urgent care, oftentimes the care being provided at home is more than sufficient. It's just as important for us to reassure caregivers who are doing everything right at home. After all, we know care extends beyond our clinics and 24/7 nurse line into families' homes.
What we built and why it matters
Based on what we learned from our personal experiences and those of the families we've served, we built a symptom checker that resembles live conversation with a doctor, appropriately progresses and eliminates possibilities, and provides actionable advice on what to do next. The Brave Care Symptom Checker was built by doctors based on how they behave, diagnose, and triage when they're with patients.
Context is key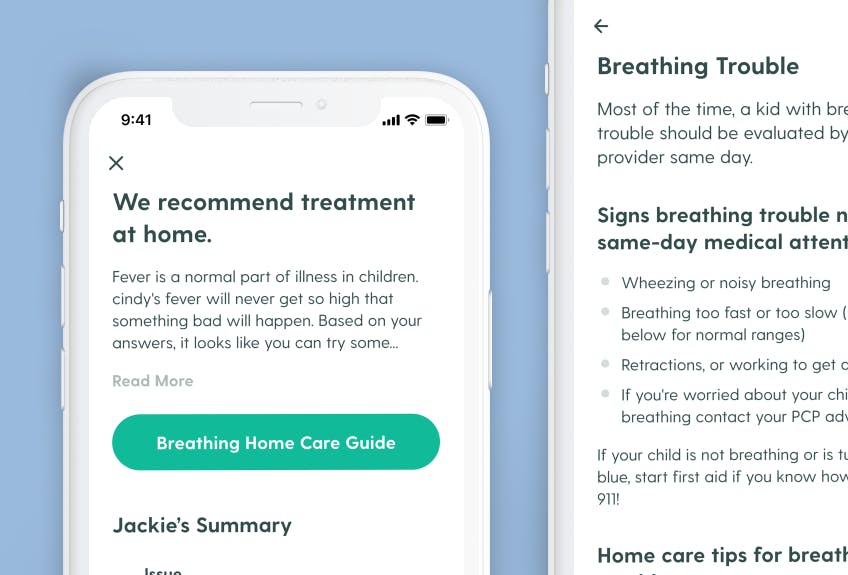 From the start, our goal was to build something that was easy to use, and would provide appropriate information to help parents make the best decision for their situation. From our own experience, we know that context is incredibly important.
Whenever we give advice—whether it's to continue home care, seek urgent care, go to the emergency room, or call 911—we explain why. This helps caregivers contextualize and feel informed early on or better communicate with care professionals, no matter the recommended next steps.
Built for everywhere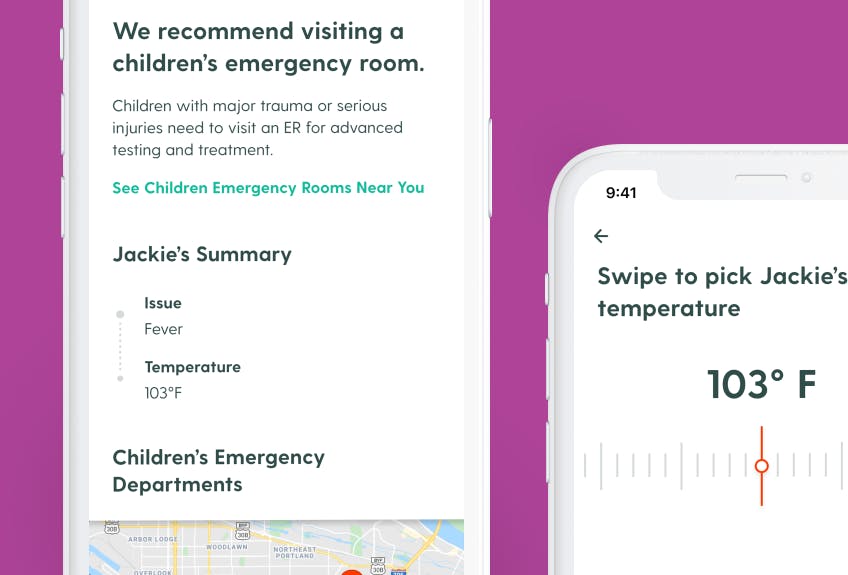 All families deserve medical information and advice that's accurate, easy to understand, and helpful. While our physical spaces currently only exist in Portland, we're building tools that can be used more broadly. The Symptom Checker is free and available for use from anywhere. For families using the tool outside of the Portland area, we built a database of kid-friendly urgent cares and emergency rooms across the country.
Immediate impact
Families are already using (and loving!) the Symptom Checker. Our Care Team hears positive feedback about its ease of use, unnecessary ER visits avoided, and the many hours saved several times a week. Parents have noted feeling informed, reassured, and more in control… well, as much as one can with a sick or hurt little one.